Live at The Glenn Gould Studio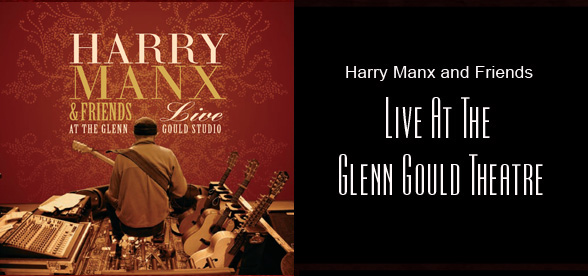 Here is the Music Player. You need to installl flash player to show this cool thing!
LISTEN NOW | BUY NOW | ITUNES
HARRY MANX & FRIENDS – LIVE AT THE GLENN GOULD STUDIO (2008, Dog My Cat Records)
Harry Manx built a career putting a unique spin on the blues, serving up his distinctive and hypnotic brew of Eastern and Western sounds to audiences worldwide. Combining the sensuality of traditional blues with transcendent Eastern sounds has become his trademark.
It's in a live setting that this bridge between "heavenly" India and "earthy" American blues is most effectively built. As Harry says, "My goal has always been to draw the audience as deep as possible into the music."
In March of 2007, CBC Producer Todd Fraracci put together a bewitching blend of musicians for a special concert event entitled "Heaven and Earth – Harry Manx and Friends" at the Glenn Gould Studio in Toronto to further explore this delicate balance. The accompanying musicians perfectly complement his style, highlighting his Indian influences and allowing the music to successfully venture all over the world map. Previously recorded material is presented with added dimensions, producing new revelations that occur with each listen.
Never before has this configuration of musicians been captured live; "Live at the Glenn Gould" represents the best of their one-of-a-kind collaboration. This is Harry as he is best digested, serving the musical palate of his devoted audience.
Harry Manx: Vocals, 6-string guitar, lap slide guitar, banjo, Mohan Veena
Kevin Breit: Guitars, mandolin
Steve Marriner: Harmonica
Samidha Joglekar: Vocals
Ravi Naimpally: Tablas
George Koller: Bass, dilruba
TRACK LISTING:
1. Point of Purchase 7:46
2. Take This Hammer 4:34
3. Single Spark 7:13
4. Voodoo Child 8:54
5. Good Time Charlie 4:50
6. Can't Be Satisfied 10:09
7. Samidha's Tune 6:59
8. Tijuana 8:44
Total Running Time: 59:15
Reviews:
"Harry Manx has been gently courting his audience with his Indian-inspired take on the blues, a marriage of Eastern music to Western, creating a niche that has more to do with world music than anything else more limiting. His success has been built on the back of his instrumental prowess on his weapon of choice: the 20-string Mohan Veena, which subtly blends Eastern sounds to blues-friendly turf. On his eighth release, Harry ups the ante with the addition of two members of Toronto-based world music ensemble Tasa. You can almost hear the audience buying some time, clapping politely between songs as they acclimatize themselves to this new balance. It doesn't take long to win them over, as the hyper-simpatico league of support players (notably guitarist Kevin Breit and harmonica-player Steve Mariner) weave in and around Harry's leads with deft skill. If Samidha Joglekar's vocals contrast too starkly with Harry's croon on "Point of Purchase," all is forgiven by "Single Spark," and Joglekar's contribution at the tail end of the jam-friendly "Voodoo Chile" earns its just rewards. Of special note is Marriner's wailing harp solo on the ten-minute jam that was Muddy Waters' "Can't Be Satisfied," which will more than satisfy. Live pays significant dividends across its 60-minute length. The faithful are well served while the casual Manx fan will benefit from a closer look into the very core of Harry's muse.
– Eric Thom, Exclaim!, June 2008
"For people who are fans of Harry Manx and have never had the opportunity to hear him in concert, Live At The Glenn Gould Studio is a disc you don't want to miss because not only is the sound quality amazing, it also captures the immediacy and intimacy of the live concert experience. For those who aren't familiar with his unique style of music, this a wonderful way of being introduced to what he does. You will hear how west and east can meet, with beautiful and harmonious results. No matter how you look at it, Live at the Glenn Gould Studio is great music."
– Richard Marcus, Blogcritics online, March 2008