Isle of Manx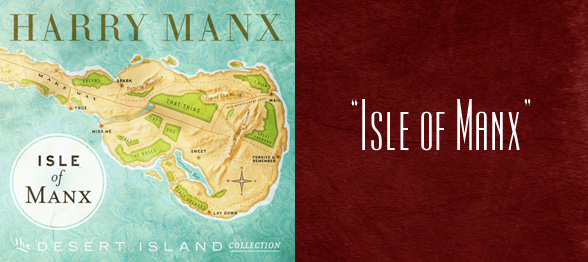 Here is the Music Player. You need to installl flash player to show this cool thing!
LISTEN NOW | BUY NOW | ITUNES
Isle of Manx – the Desert Island Collection (2010, Dog My Cat Records)
After releasing nine albums in nine years, it was high time for a "Best Of" CD. Featuring Harry on the 20-stringed Mohan Veena, acoustic slide guitar, lap steel, and banjo, this essential "desert island" collection contains fifteen tunes (thirteen original songs and two cover tunes) that represent the evolution of a highly unique musical style that fuses Eastern sounds, Western blues and acoustic folk.
TRACK LISTING:
Tijuana 3:59 (from the album Mantras for Madmen, 2005)
Coat of Mail 4:26 (from the album Wise and Otherwise, 2002 / 2007)
The Great Unknown 4:07 (from the album West Eats Meet, 2004)
True to Yourself 4:15 (from the album Bread and Buddha, 2009)
Roses Given 3:51 (from the album Wise and Otherwise, 2002 / 2007)
A Single Spark 4:21 (from the album Mantras for Madmen, 2005)
Your Eyes Have Seen 4:28 (from the album Bread and Buddha, 2009)
Don't Forget to Miss Me 3:25 (from the album Wise and Otherwise, 2002 / 2007)
Make Way for the Living 4:26 (from the album West Eats Meet, 2004)
Lay Down My Worries 3:18 (from the album Dog My Cat, 2001 / 2006)
Your Sweet Name 3:21 (from the album Mantras for Madmen, 2005)
Bring That Thing 5:10 (from the album Dog My Cat, 2001 / 2006)
Dew on Roses 3:35 (from the album Bread and Buddha, 2009)
I'm Sitting on Top of the World 3:25 (from the album West Eats Meet, 2004)
Forgive & Remember 3:38 (from the album West Eats Meet, 2004)
Mastered by Jordy Sharp and Wynn Gogol
Artwork by Karo Design, Calgary
"Manx has hand-picked the cream of his 'mystic-ssippi' catalogue for this celebratory anthology. Melding Eastern voicings and Indian scales with the blues has blown acres of unexplored territory wide open, and the guitarist has evolved an enthrallingly other-worldly vibe as a result. For those unaware of his work, this is a fine introduction to 'indo-blues'."
– Guitar and Bass Magazine (UK), March 2011