Strictly Whatever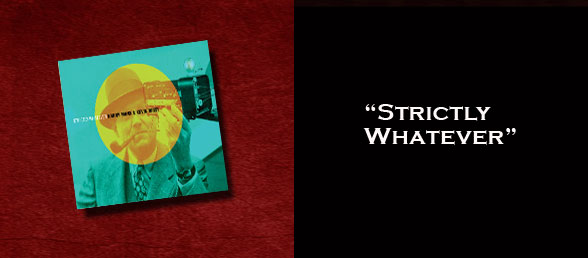 GUITAR MASTERS HARRY MANX AND KEVIN BREIT TEAM UP AGAIN FOR NEW CD, STRICTLY WHATEVER, COMING MAY 24 ON
STONY PLAIN RECORDS
EDMONTON, AB – Stony Plain Records announces a May 24 release date for the new collaboration from guitar masters Harry Manx and Kevin Breit, Strictly Whatever, with U.S. distribution by ADA. The pair's third album together, Strictly Whatever is the Manx/Breit team's second CD for Stony Plain and follows the critically-acclaimed In Good We Trust, released in April of 2007.
A new Harry Manx and Kevin Breit CD is always full of eclectic musical delights, and for Strictly Whatever each of the two guitarists brought a number of different original songs to the table, plus unique covers of Bobby Hebb's classic, "Sunny;" and the John Lee Hooker chestnut, "Mr. Lucky."
"What's different for me on this CD is that I played mostly baritone guitar, which adds a good bass-end to the tunes," says Harry Manx. "I also sat down and played kick drum and snare with my left and right feet while playing the guitar. Kevin brought a wide variety of stringed instruments and electronic pedals."
"Between us, Harry and I sing on most all of the songs," explains Kevin Breit. "He and I sing lead on three or four songs each, and there are three vocal duets. Harry plays Mohan Veena, the Indian instrument he brings to all his recordings and live gigs, as well as banjo, baritone electric guitar and lap acoustic guitar; and I played just about everything else."
Kevin Breit contributes six new songs on Strictly Whatever, while Manx penned three. One of Breit's new tunes is an all-instrumental track, "Hippy Trippy," which conjures up visions of the psychedelic '60s. "Though we each prepared our songs in advance of the session, we tried to do a lot of the creating in the studio on the spot," Manx says, adding to the spontaneous vibe of the recordings. "It's interesting to note that I often play lead lines on guitar on Kevin's tracks and he plays the leads on mine. That, along with many other details of our recording sessions were never discussed in advance…we just allow each other to do their best…only one rule, Strictly Whatever rules!," enthuses Manx.
For more information, visit www.harrymanx.com, www.kevinbreit.com and www.stonyplainrecords.com.