Mantras for Madmen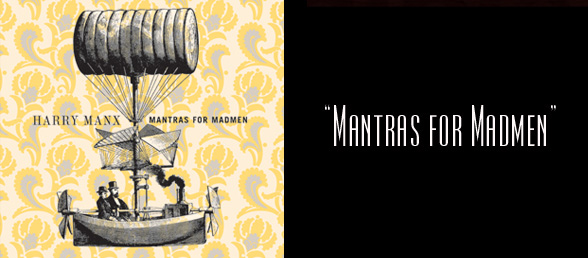 Here is the Music Player. You need to installl flash player to show this cool thing!
LISTEN NOW | BUY NOW | ITUNES
MANTRAS FOR MADMEN (2005, Dog My Cat Records)
Harry's sixth record in as many years is blindingly unapologetic when it comes to even greater use of instrumentation. This time there's bass & drums that kick the groove level up a notch, gospel-laden backing vocals with killer harmonies that enrich the ten original tunes, and Indian instruments for the two ragas that are thrown into the mix. "Tijuana" pulls out all the stops with a full Indian treatment of this J.J. Cale cover song with the addition of tamboura, drums and Hang along with Manx's famous Mohan Veena. "Single Spark" and "Your Sweet Name" fuse that cultural merging of East and West in true Harry Manx fashion that remains his signature styling. John Reischman on mandolin is a shining addition to many of the tracks that unify seamlessly with the tried-and-true blues & ballad songs that has put Manx on the international music map.
Produced by Jordy Sharp
Engineered by Wynn Gogol
Harry: Vocals, 6-string guitar, lap slide guitars, Mohan Veena and tamboura
Emily Braden: Vocals
Niel Golden: Tablas / percussion
Steve Marriner: Harmonica
John Reischman: Mandolin
Billy Mendoza: Bass
Album Design by Michael Dangelmeier, Karo Design
Track Listing:
1. Where Fools Die 3:54
2. San Diego-Tijuana 3:56
3. The Point of Purchase 4:12
4. Never the Twain 3:42
5. A Single Spark 4:21
6. Your Sweet Name 3:18
7. Afghani Raga (instrumental) 3:45
8. It Makes No Difference 3:58
9. Don't Take His Name Away 5:07
10. It Takes a Tear 3:41
11. Nothing Fails Like Success 3:21
12. Talkin' Turban (instrumental) 2:30
Reviews:
"While most musicians are content to work within the accepted boundaries of their chosen style, lap-slide guitarist Harry Manx likes to color way outside the lines. His crayons? Soulful, raspy vocals, poetic lyrics, and the whining drones and mysterious melisma of Indian music. In addition to picking Hawaiian-style flat-top à la David Lindley, Ben Harper, or Kelly Joe Phelps, Manx plays the Mohan Veena – a 20-string archtop developed by Indian slide wizard Vishwa Mohan Bhatt.
East/West fusions can sometimes sound forced or awkward, but Manx – who studied with Bhatt for five years – dodges that bullet. On Mantras for Madmen, mandolin, banjo, harmonica, tamboura, tabla, and haunting female voices swirl seamlessly around intricate slide melodies, creating an exotic, yet strangely timeless sound. Drawing from blues, ragas, and the story-telling heritage of British Isles folk music, Manx conjures songs that are as bewitching as they are unique. "
– Andy Ellis, Guitar Player Magazine (online edition), January 2006
"Manx' newest release, Mantras for Madmen, finds perfect symmetry between his Alt-Folk, Indian ragas, and Blues theology. But the tonal complexion of the CD is richer than its subtlety might suggest. Dissect, for instance "Your Sweet Name." It's built on a rhythm base of tablas, with sitar-like flourishes. It rocks gently on an insistent groove common to Alt-Folk. And when the guitar solo comes, it's phrased in riffs wrought from picking techniques that could have come from Bill Monroe's songbook. Is it Blues? Yes, but of a different stripe."
– Dave Good, FolkWax (online), July 6, 2006
"This is one of those smaller production discs that you may have to search around for, but the hunt becomes worth the effort when you put it in the player … It's a very interesting and eclectic blend that is rooted in the blues, yet he has incorporated the rhythms of India and some of the instruments, the tamboura and in particular the Mohan Veena. The latter is played like a lap steel but has seven strings plus resonator strings. He wrote all but two of the songs here, and for those he didn't write he picked good songwriters; J.J. Cale and Robbie Robertson.
This disc has a strong bluesy undertone and a light feel, at times played on the Indian instruments where it can give a whole other feel. Take the J.J. Cale tune, San Diego-Tijuana: it has the same flow as the original but played with the lead instrument being tamboura and Mohan veena, which adds a whole other dimension. The lyrics show that the time spent in India has had its effect upon his thinking also – again it is adding depth to the songs. A very interesting disc that seems to unfold and reveal new layers with each playing, a lot like taking an onion apart layer by layer."
– Bob Gottileb, Folk & Acoustic Music Exchange, November 2005
"When you put this CD into the slot for the first time you become aware that the whole set up is summed up in one word – QUALITY. Harry Manx spent twelve years of his life living in India and when you listen to his music it shows. Harry said "The way I see it, Blues is like the earth and Indian music is the heavens. What I do is to find a balance between the two. This CD has a range of styles on it from ballad to fantastic tracks like 'Your Sweet Name' which has a driving pace with some stunning guitar work. Harry plays a Moveena [sic] (That's how it sounds) which is an 18 string guitar like instrument that makes noises that leaves you craving for more. Musical drug addiction. "Afghani Raga" forced me to lay back in my reclining seat, close my eyes and picture the east with all of its smells, sounds and colours. "
– Tony Nightingale, Blues Matters Magazine (UK), December 2005
Top 10 Blues CDs of 2005 – Chicago Sun Times
Juno Nominated 2005