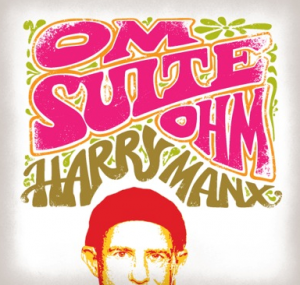 Harry's new CD "Om Suite Ohm" is now available! It will be distributed in North America by Harmonia Mundi and by Vitamin Records in Australia.
This is the first CD from Harry to feature his 'Bollywood style' electric slide techniques. Harry is joined by a fantastic group of musicians playing on Indian, African and western instruments.
The CD features the song that got Harry nominated for 'Songwriter of the Year', "Carry My Tears".
Also featured is an amazing version of John Coltrane's song "A Love Supreme".
North American customers can order the physical CD from our Online Store.
Harry Manx nominated on February 23 2012 for BLUES ARTIST OR DUO OF THE YEAR.
The CD Strictly Whatever was voted by CKUA in Alberta as the CD of the Year (2011).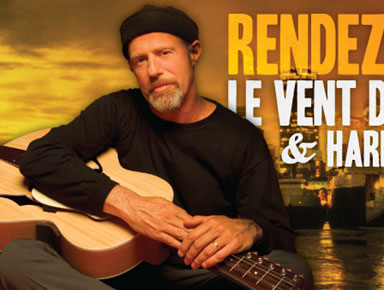 Rendez-Vous is a special radio-web series where artists from different linguistic and cultural backgrounds come together to create and perform in a spirit of sharing and exploration. Held in the comfortable and intimate setting of CBC Montreal's Studio 12, these encounters were conceived to create an exchange where music is the common language.
We're presently working on round two of this series (the first took place in 2011), and we'll be bringing you exclusive videos of these wonderful sessions.
Here's the first video to come out of this second round. World-renowned  traditional Quebec band Le Vent du Nord meets Harry Manx, a blues singer with a unique style.
Watch their performance of the song "Écris-Moi" and be among the first to see Manx sing in French with Le Vent du Nord.
Harry will make appearances at the following Australian festivals in March & April: Port Fairy Folk Festival March 9,10 &11 The Spiegeltent Adelaide March 12 Blue Mtns. Folk Festival March 16,17,18f Byron Bay Roots & Blues Festival April 6,7 The National Folk Festival in Canberra. April 8, 9 Harry will be doing an extensive tour in Australia with over 50 concerts scheduled for May and June.
Harry is once again earning recognition as a relentlessly creative force on the acoustic music scene in Canada. The 2011 Folk Music Awards have nominated Harry's collaboration with guitarist extrordinaire Kevin Briet on the CD 'Strictly Whatever' as "Ensemble of the Year". Also from the Maple Blues Awards Harry has been nominated for three awards (Acoustic Act of the Year, Songwriter of the Year and Recording of the Year for 'Strictly Whatever').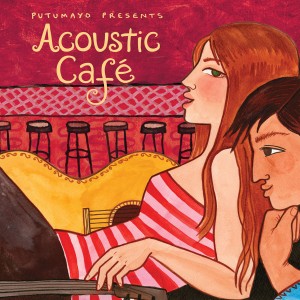 A captivating collection of singers/songwriters from the US, Canada,
South Africa and Australia
Putumayo announces the release of Acoustic Café, a compelling collection of singers/songwriters from across the world, available September 27th. Acoustic Café combines the best elements of Putumayo"s successful Acoustic and Café series, which together have sold more than 2 million copies.
On Acoustic Café, Putumayo features rising young stars and new discoveries. In keeping with their global approach, the artists hail from around the globe. American singers such as Trevor Hall, Justin Townes Earle, Sarah Jarosz, are represented, while Harry Manx (Canada), Gregory Alan Isakov (South Africa) and The Waifs (Australia) are featured as well.
These innovative artists offer a variety of vocal highlights, from the bluesy folk stylings of Brown Bird ("Danger and Dread") to Trevor Hall's contemporary "The World Keeps Turnin."" Harry Manx's cover of Van Morrison"s "Crazy Love" and Sarah Jarosz's rendition of Bob Dylan"s "Ring Them Bells" demonstrate the power of contemporary artists to re-interpret beloved classics in their own styles. Justin Townes Earle showcases his distinctive dark and raspy vocals with an Americana edge on "One More Night in Brooklyn," while The Sweet Remains offer beautiful harmonies on "Dance With Me." Gregory Alan Isakov brings a modern folk sound to "The Stable Song" while Lucy Kaplansky hews to a more traditional folk sensibility on "Manhattan Moon. " Fences tells a tale of lost love on "From Russia With…." and Jon and Roy offer the uplifting "Any Day Now." The Waifs from Australia round out the collection with their upbeat energy on "Love Serenade."
Media can visit www.putumayopress.com for additional information on the artists featured on Acoustic Cafe. To learn about interview opportunities with featured artists and Putumayo founder/CEO Dan Storper, or for more information on Putumayo World Music, visit www.putumayo.com or contact:
Karen Wiessen – The Door
Karen@thedooronline.com Tel: 646 340 1761
www.thedooronline.com
www.putumayo.com
In June of 2011 Harry will be in Europe performing 4 shows. The first will be in Warsaw Poland followed up by shows in Leiden, Eindoven and Amsterdam (at the Paradiso Club). Check the tourdates page for more details.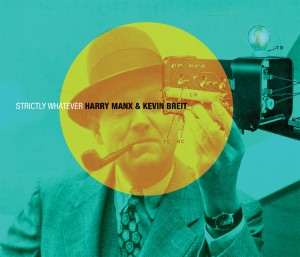 Stony Plain Records announces a May 24th release date for the new collaboration from guitar masters Harry Manx and Kevin Breit, Strictly Whatever. The pair's third album together, Strictly Whatever is the pair's second CD for Stony Plain and follows the critically-acclaimed In Good We Trust (released in April of 2007).
A Harry Manx and Kevin Breit CD is always full of eclectic musical delights, and for Strictly Whatever each brought a number of different original songs to the table, plus unique covers of Bobby Hebb's classic tune Sunny, and the John Lee Hooker chestnut, Mr. Lucky.
Harry plays mostly baritone guitar, which adds a good bass-end to the tunes. He also plays kick drum and snare with his feet while playing the guitar, as well as the Mohan Veena, banjo, and lap acoustic guitar; Kevin played just about everything else.
Dylan Black did a recent interview for his show Black at Night on the Ottawa station DAWG FM. Check it out here.